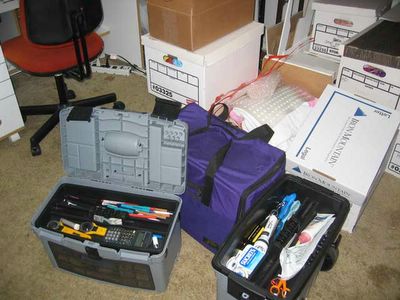 This is what I'm taking to QSDS, or at least most of it. Doesn't include my clothes because I haven't packed them yet. Clothes are the least important item. I'm taking my husband's laptop so I can read email and hopefully post pictures and messages to my blog. The hotel has free wireless internet and I promise to try harder to keep my blog up to date than I did when I was in France.
I'm riding with Martha, my partner in crime, and we're picking up Linda in Belgium, who is visiting the area for her son's graduation, the QN opening (her quilt is on the back cover of the catalog!), and QSDS. It's going to be about an 8 hour drive, but with three people talking, the time will fly. The drive through western Maryland, West Virginia, and Pennsylvania is beautiful, but it flattens out alot after crossing the Ohio River. Luckily from that point it's only 2 more hours.
My next post will be from Columbus, yeah!